Post by Dark 7 Invader on Aug 2, 2010 8:39:46 GMT -5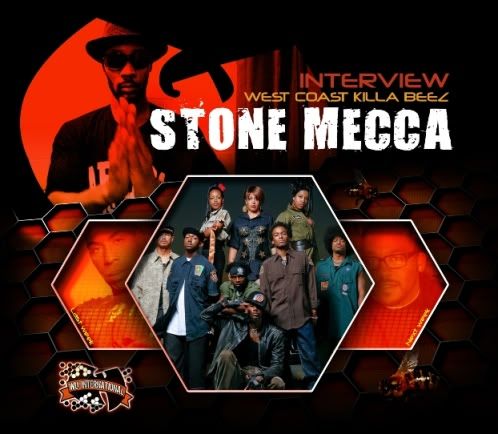 The L.A.-based funk/soul band and Touch the Music Records artists Stone Mecca, was hand-picked by The RZA to back Wu-Tang on the 2007 North American Rock the Bells Tour and co-headlined THE RZA's Bobby Digital Digisnacks Tour in 2008. This nine-piece ensemble is quickly building a reputation as a versatile and dynamic live band that effortlessly slides from funk to hip hop to soul without missing a beat. Stone Mecca has been featured in Billboard Magazine and USA Today Online. Stone Mecca also performed on the Repo Men, Afro Samurai and Afro Samurai Resurrection soundtracks and Wu-Tang's 8 Diagrams.
Releasing a live album "Stone Mecca Live On 54th" last year due to request from fans with limited amount on CD, the group has been voted the best live band within the Wu by our site, and judging from what feedbacks we have had about the group from fans and critics alike, we were right! "This CD will give those who haven't seen us play live the opportunity to hear what it's like at a Stone Mecca show," says band founder Trú James. "I truly believe we've captured the energy and excitement of our performances with this CD." Truly so, since The Roots, there have not been anything else like this to grace the hip-hop, funk and soul scene.
Independently releasing their début album "First Contact" in 2008, the fans have been waiting eagerly for another project from the group, Probably one of the upcoming greatest live bands currently around, Stone Mecca have returned to the studio and are half way through recording their second album. While they might not been seen as part of the Killa Bee Gang commonly claimed by the likes of Black Knights and Northstar, Stone Mecca are definitely part of the West Coast Killa Beez collective and they have brought in something unique that has been lacking especially within the Wu camp... that live element! Yes Stone Mecca is a proper band, under the guidance of Tru James the group members all play at least one or more instruments and compose their own music. There have been talks since Wu came into the scene of other live bands that have played along side Wu on a number of occasions but Stone Mecca is the first official band affiliated with Wu and they bring in much more than just that live element as evident on their album and live shows.
The fans are now getting familiar with the group and it's members, while we have interviewed one of our favourite groups on a number of occasions, it is only right to showcase another chamber of music and a different side and part of the West Coast Killa Beez series with another interview with Stone Mecca. We caught up with the group's main leader Tru James to find out what the group has been up to, the much talked about Live album, upcoming album tentatively titled "Dreams", assisting RZA with the Kanye West's upcoming album, Stone Mecc's full length film featuring songs from upcoming album and much more, Meccanism is here... Enjoy!!
Click on link below to read full interview
wu-international.com/misc_albums/Interviews/Stone%20Mecca%20Interview3.htm
Also check Out The New Video and Single "Magic Carpet Ride"
www.youtube.com/watch?v=99Fr-IzRWGw