Post by Dark 7 Invader on Apr 1, 2010 5:08:09 GMT -5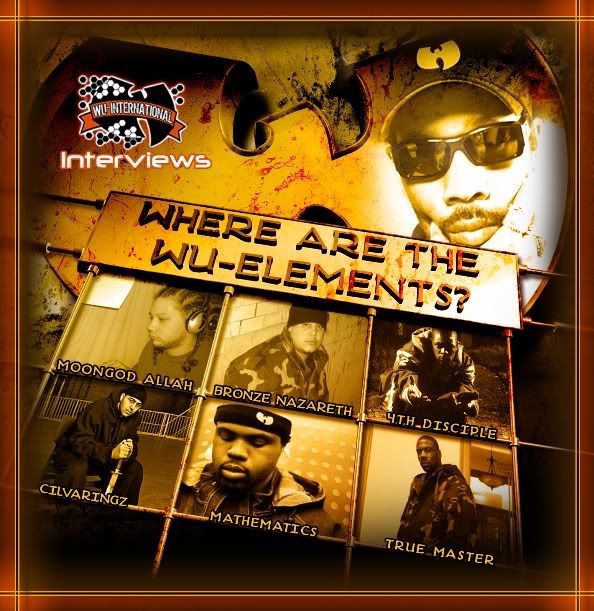 Did the Wu fall off after "Wu-Tang Forever"? Most fans still argue about the direction Wu took after "Wu Tang Forever" nailed artistic and commercial triumph. Ego's / visions collided and a series of disappointing, mediocre albums followed. All things go in cycles, and regardless of the fall from mainstream, Wu has managed to maintain its cult following as diehard fans have stuck with them through out the public fall out, disappointing or shelved albums. Optimism began creeping in with the release of Masta Killa's "No said date", hailed as a classic and the return of Wu, this indie album must have been the spark of it all as it served as an indication that sooner or later the Wu would get things back together, sharpen their swords and show the hip-hop world who really held the crown. Masta Killa kept it simple, used the same ingredient that the Wu have been using with a modern twist to it, Family affairs or rather "Fam members only", NSD boasted mostly and solely in house production and featured members.
Last two years fans and artists alike started using the term "Wu Renaissance" especially with a solid release from GZA/Genius (Protools) the highly anticipated "Only built for Cuban linx " by Reakwon and a list of others from Ghostface, Inspectah Deck, Wu-Massacre and surprisingly U-God astonished most skeptic fans with Dopium.
One component that's been mostly lacking in this exultant return to form is the legendary Wu Elements. For the non Wu fans or Wu comers (New comers) who have never heard this term before, The Wu-Elements were the constant production team responsible for the bulk if not all of all the Wu releases since they started out in the game. The elements were the backbone of the Wu movement, Fronted by The RZA, the elements had 4th Disciple, True Master, Allah Mathematics, Inspectah Deck (Yes he makes beats too, or used to), and the latest and last additions Cilvaringz, Moongod Allah and Bronze Nazareth.
The RZA has been scoring movies, self producing and still contributing to countless Wu-tang Clan and Killa Beez projects.
Off course DJ and producer of the Wu, Mathematics has also been active with his compilations as well as dishing out darts for his Wu brethren's projects.
Probably the busiest of them all next to RZA is Bronze Nazareth, last 2 years has seen this beat specialist contributing to some of the greatest records and albums made within the Clan and outside…. but where are the rest?
4th Disciple has inspired a host of new breed of producers and has contributed maybe 10 songs since his duo album with Hell Razah, few of his releases have been from his archives as far as new materials have been concerned...
True Master, who had a very solid but rather small input throughout the Wu catalogue, provided even less material last decade, (some songs for Masta Killa and one for GZA) with rumors of him doing a full collabo album with the legendary KRS-One as well a solo album that has been completed but not released to date...
What ever happened to Moongod Allah, the producer from Cilvaringz camp or was it Ringz that was from Moonlight camp? Either way this once disciple of GZA and The RZA made waves with internet releases and sharp beats that gained him a lot of fans quick and just like that vanished off the face of the earth apparently.. . Fans all over the world been wondering where he is…
The Rebel INS has not produced to our knowledge for almost 6-8 years now, but seems to have gotten back to it with the release of his latest album "Manifesto",
Last but not least, Cilvaringz, who dropped a stellar debut album, getting critical acclaim amongst Wu fans but that has already been 3 years now and no sign of a follow-up, with rumors of him retiring on the mic and maybe focusing on just productions?
For a team of producers that should be in the lime light along side the likes of Kanye West, Just Blaze and co, these elements have been pretty passive apart from the few mentioned above, Wu-international decided to get a Wu elements interview series going and search and find (those possible) on what they have been up to, current work and the whole nine yard.
Who else better to set this series off with other than the harder to find and highly sort after legendary Dutch producer "Moongod". Last known of his whereabouts was that he has quite the rap game and no amount of money would bring him back and he was settled in a country side or so. Lots of fans loved his refreshing production style on albums from Cilvaringz "I" to Most High Brothers, Lin Brotherz, the Henchmen and his own 2 cult "Tiger" classics . Was "The return of the ten tigers" indeed his last album in 2002 ? Has he stopped making music ? Where is he now and why is he so silent?? Why don't we find that out from the horse's mouth? Yes, Wu-International dug deep and caught up with the actual Dutch master and he has not only answered all the fan's questions, he has been kind enough to leak an exclusive unreleased song from the Iron Empire project to Wu-International featuring Tekitha, Cilvaringz, Ganz and Magpie from the Moonlight days. Enjoy the read … and be on the lookout for the next installment of our Wu Elements interview Series!!
wu-international.com/misc_albums/Interviews/MoongodAllah%20Interview.htm